You have 24 hours to travel outside the great state of Texas and you decide to spend it in….Seattle! Ambitious maybe? But a weekend trip is a weekend trip and you have to make the most of each moment. So what is the best way to spend the day? A little bit of eating, drinking, walking, and–of course snap chatting. After a stellar visit with some local tour guides (aka my two college roomies) I give you: A Houstonian's Guide to Seattle in 24 hours.
The Early Morning: A Hike
Seattle people are hipsters and they love nature. Like leaves and mountains and rivers and stuff. I know. Weird. But like embrace it. Pull your butt of of bed, get out of the city, and roll around in the nature. Even I, the the biggest city lover/brunch go-er/internet-dependent millennial out there, enjoyed disconnecting and went on a fabulous hike out to Snow Lake. It's an hour drive outside the city and an 8 mile hike. You can find all sorts of trails of different lengths and distances on the Washington Trails Association website.  It's like the Yelp of hiking in Seattle with "trip reports" aka reviews.
Click this link for some hiking boot ideas.
The Morning: Brunch @ Coastal Kitchen
Now that you've hiked and exercised. You're starving and ready to start drinking I mean, brunching. What is a weekend without brunch? Nothing. So obvi your trip needs to include some eggs, mimosas, in a hip eatery. Coastal Kitchen, in Capital Hill, is a good place to start to officially get your weekend on. I recommend the goat cheese omelette with caramelized onions and sage + mimosa and coffee. If you're feeling like you want something on the lighter side, stop by juicebox in Capital Hill for some light wraps and juices instead.
Early Afternoon: Snapchat Something Tourist-y
As the old saying goes: if you didn't snap chat it, it didn't happen. And if you go to Seattle and don't take advantage of the 2987342 filters they have out there, you might as well just photoshop yourself in front of the Space Needle or Pike Place Fish Market and not even bother with the city.
The Late Afternoon: Happy Hour
After all that snapchatting, you're probably pretty thirsty. And the perfect place to quench that thirst is at Frolik Kitchen + Cocktails. Rooftop bar in the center of downtown Seattle? I don't hate it. But also, as the saying goes: two bars are better then one. You can take a quick walk through downtown and pop on over to the hip, young neighborhood that is Capital Hill and round out your happy hour drinks at The Saint. We recommend the chips and guac with an Arquero (margarita's spicy serrano and cucumber cousin).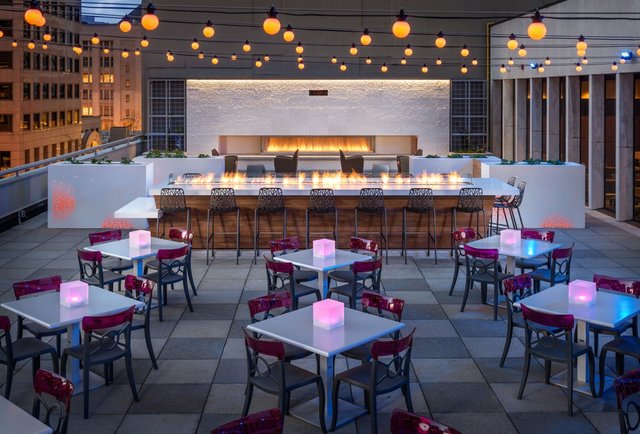 The Evening: Dinner
Now that you're in the hippest neighborhood in Seattle (by this point in the day, you feel like a local and can start calling it "Cap Hill"), you walk a few blocks up and make like the vegetarians and put your name in for a table at Plum Bistro. Disclaimer: it's the closet thing a vegetarian will find to heaven. Even the pickiest of meat eaters will find something to love. But actually check out the menu. #foodieheaven
The Late Evening: Rage
When the sunsets in Seattle, it's Cap Hill's time to shine. Bar after bar. Club after club. Hipsters, gays, bikers, hippies, basic betches and more gather to get their drink on. Complete your Seattle bar crawl bingo by getting: Unicorn Jizz @ Unicorn, margarita @ Cha Cha's, Manny's beer and drunchie pizza @ Big Mario's.
The Finale: Watch the Sunrise
How do all great nights end in Seattle? By staying up all night, climbing onto a roof and watching the sun rise over Lake Union. *drops the mic*